Rising Sector of Turkey: MACHINERY
Production in the Turkish machinery sector has increased more than doubled in 10 years.
With its rapid development and the potential it has, the Turkish Machinery Sector is a sector which is increasing its share in the Turkish economy and exports. The share of Turkish machinery export is almost 11% in Turkey's total export.
Turkey exports machinery to more than 200 countries (including free zones).
Turkey ranks 26th in world's machinery export, 23th in world's machinery import in 2018.
Over the last 15 years, machinery export has increased 10 fold.
About 60% of machinery export is to EU and the USA.
The share of machinery sector in total export of Turkey was almost %11 in 2019.

MACHINERY EXPORT OF TURKEY (BILLION $)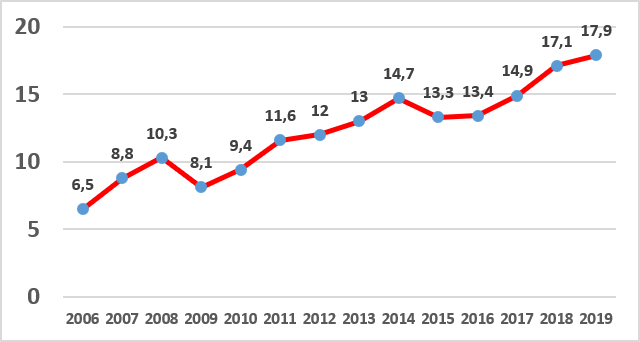 ADVANTAGES OF TURKISH MACHINERY INDUSTRY
-Developed engineering skills and quick adaptation to new technologies
-Quality awareness
-Specialized,highly educated and skilled middle and senior managers
-Young workforce
-Sufficient facilities (like industrial zones) and sufficient infrastructure
-Advanced sub-industry
-Rapid adaptation to international manufacturing standarts
-Domestic supply of raw materials
-Flexible structure of SMEs (Most of the active companies in the Machine Manufacturing Industry in Turkey are SMEs)
-High level organization of the sector

MAIN PRODUCT GROUPS IN MACHINERY EXPORT OF TURKEY (2019, MILLION $)



Source: TurkStat-Turkish Statistical Institute
MAIN COUNTRIES IN MACHINERY EXPORT OF TURKEY (2019)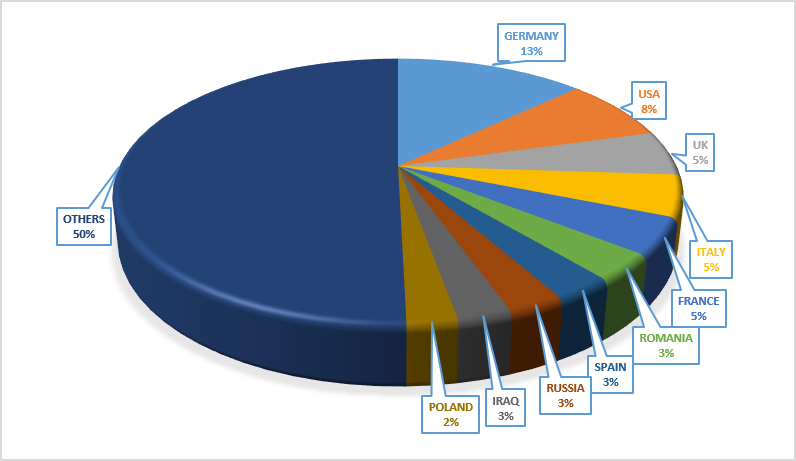 Source: TurkStat-Turkish Statistical Institute
In Turkey's machinery export; Germany, the USA, United Kingdom, Italy and France are top 5 countries in 2019.

ECONOMIC, INDUSTRIAL & MACHINERY INDUSTRY GROWTH OF TURKEY (%)

In recent years, Turkish machinery industry growth rates have been much higher than growth rates of Turkey's overall economy and industry.
Turkish machinery sector attaches great importance to R&D activities!
In Turkey, the ratio of R&D expenditure to GNP keeps increasing.


For R&D Incentives, visit:
– Ministery of Industry and Technology
– The Scientific and Technological Research Council of Turkey
– Investment Office- Investment Guide (Invest in Turkey)

FDI INFLOWS TO TURKEY (CUMULATIVE – USD BILLION)
– Turkey's impressive growth performance and structural reforms implemented over the past decade have landed it on the radar of many international investors.
– According to EY Attractiveness Survey Europe, Turkey became the 7th most popular FDI destination in Europe in 2018. The country was home to 261 projects, up 14 percent year-on-year, and enjoyed a 4 percent share in all FDI projects across Europe.
– Up until 2002, total FDI into Turkey stood only at USD 15 billion, while the country has since attracted around USD 209 billion of FDI during the 2003-2018 period.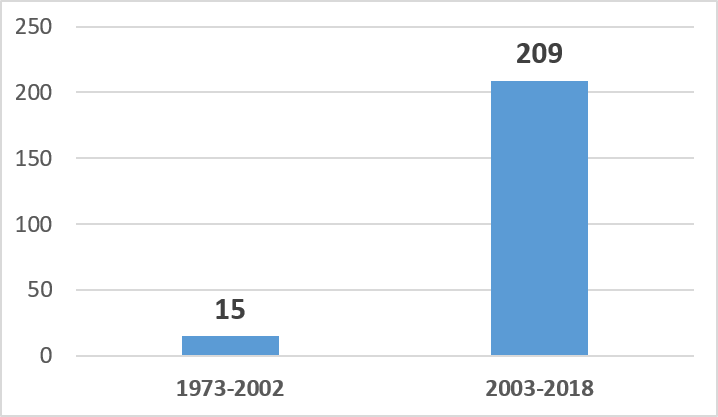 Source: Central Bank of the Republic of Turkey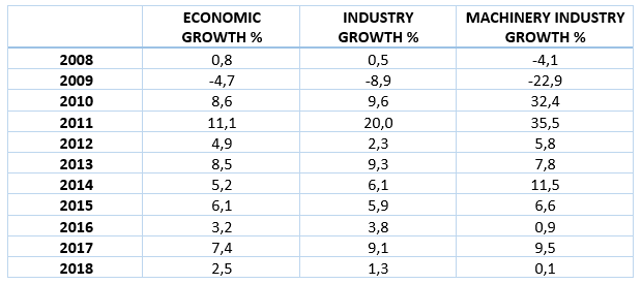 MACHINERY EXPORT OF TURKEY BY SUB-SECTORS (MILLION $)
| | | | |
| --- | --- | --- | --- |
| PRODUCT GROUP | 2018 | 2019 | Change (% '19/'18) |
| CONDITIONERS AND COOLING MACHINES | 2.283 | 2.350 | 2,9 |
| ENGINES, ACCESSORIES AND SPARE PARTS | 2.222 | 2.060 | -7,3 |
| WASHING AND DRYING MACHINES | 1.641 | 1.671 | 1,8 |
| CONSTRUCTION & MINING MACHINERY AND ACCESSORIES | 1.221 | 1.347 | 10,3 |
| TRACTORS & AGRICULTURE AND FORESTRY MACHINES | 945 | 1.039 | 9,9 |
| PUMPS AND COMPRESSORS | 967 | 987 | 2,1 |
| MACHINE TOOLS | 854 | 842 | -1,5 |
| TEXTILE & APPAREL INDUSTRY MACHINERY AND ACCESSORIES | 722 | 798 | 10,5 |
| TURBINS,TURBOJETS,HYDRAULICS | 711 | 709 | -0,4 |
| ELECTRIC MOTORS AND GENERATORS | 520 | 654 | 25,7 |
| VALVES AND ARMATURES | 578 | 588 | 1,7 |
| FOOD PROCESSING & PACKAGING MACHINES AND ACCESSORIES | 543 | 554 | 2,0 |
| REACTORS AND BOILERS | 576 | 549 | -4,7 |
| MATERIAL HANDLING, LIFTING MACHINES AND ACCESSORIES | 371 | 459 | 23,9 |
| INDUSTRIAL HEATING MACHINES, FURNACES ETC. AND ACCESSORIES | 377 | 414 | 9,9 |
| ROLLING MILL, FOUNDRY MACHINES, MOULDS AND ACCESSORIES | 375 | 380 | 1,3 |
| RUBBER & PLASTIC PROCESSING MACHINES | 212 | 197 | -6,8 |
| PACKAGING MACHINERY & ACCESSORIES | 193 | 191 | -1,0 |
| OFFICE MACHINES | 144 | 151 | 4,8 |
| BEARINGS | 136 | 115 | -15,5 |
| PAPER MANUFACTURING & PRINTING MACHINES | 97 | 104 | 7,8 |
| LEATHER MANUFACTURING & PROCESSING MACHINERY AND ACCESSORIES | 13 | 11 | -13,1 |
| OTHER MACHINES | 1.568 | 1.795 | 14,5 |
| TOTAL | 17.269 | 17.965 | 4,0 |
Source :Exporter Associations Database
TOP 20 COUNTRIES IN MACHINERY EXPORT OF TURKEY (MILLION $)
| | | | |
| --- | --- | --- | --- |
| COUNTRY | 2018 | 2019 | Change (% '19/'18) |
| GERMANY | 2.435 | 2.329 | -4,4 |
| USA | 1.275 | 1.372 | 7,7 |
| ENGLAND | 992 | 980 | -1,3 |
| ITALY | 860 | 910 | 5,8 |
| FRANCE | 701 | 808 | 15,3 |
| ROMANIA | 602 | 589 | -2,1 |
| SPAIN | 491 | 522 | 6,3 |
| RUSSIA | 412 | 492 | 19,5 |
| IRAQ | 334 | 472 | 41,4 |
| POLAND | 405 | 438 | 8,3 |
| ALGERIA | 478 | 415 | -13,2 |
| UZBEKISTAN | 311 | 384 | 23,1 |
| OMAN | 184 | 340 | 84,5 |
| MOROCCO | 311 | 307 | -1,3 |
| EGYPT | 260 | 301 | 15,7 |
| UAE | 164 | 300 | 82,3 |
| HOLLAND | 307 | 298 | -2,8 |
| AZERBAIJAN | 259 | 293 | 12,8 |
| IRAN | 301 | 264 | -12,4 |
| INDIA | 273 | 233 | -14,6 |
Source :Exporter Associations Database













Machinery Industry Report 2019